All Glass and Glazing offer truly bespoke service – we simply remove the failed glass unit and replace it with a new one. We can supply and fit new double and triple glazed units with no stress and hassle, and at very competitive prices too. Simply give us a call of email us and we'll give you a free no obligation quotation. If you would like to proceed with the installation we'll aim to have the job completed within 14 days of placing your order.
How a double glazed glass unit is made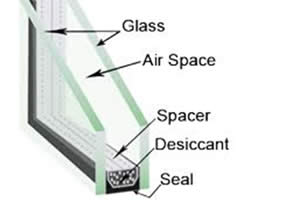 Float Glass
This is standard clear glass, most types of glass start off as this. Basic glass units will have 2 panes of clear float glass, with no additional coating or properties (not energy saving etc). Float glass tends to be 4mm, but 6mm and 10mm are also available.
Low E Glass
This is the standard 4mm glass which has a coating applied to one side of the glass (the coated side is inside the glass unit, not on the outside of it) Low E is another word for Low Emissivity – this reduces heat transmission by reflecting it back into the room.
There are 2 types of Low E glass – Hard Coat and Soft Coat.
Hard Coat
As the glass comes out of the production line, a coating is added and fuses to the hot glass. This coating turns hard.
Soft Coat
This coating is applied to cold glass. The float glass is sent though a "magnetron" coating line and applied to the surface. The coating is very delicate and damages easily. It is recommended that this type of coating has to be approximately 15mm away from the perimeter of the glass, so that the sealant can bond onto the glass. This is called edge deletion. Soft coat gives better thermal insulation than hard coat though.
What is a Spacer Bar?
The 2 panes of glass are separated by a spacer bar – this forms a cavity that can offer thermal insulation. The spacer bar is covered with small holes on the surface, which allow the dessicant to absorb water vapour from within the sealed unit. (this prevents the unit from failing).
The spacer bars can be cut to size using a saw and connected into shape by using corner keys that are inserted to the ends of the spacer bars.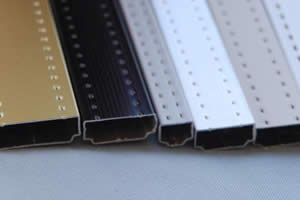 Dessicant
Dessicant or molecular sieves are used to absort particles such as water vapour. Pure 3A dessicant is used as this is made specifically for glass units. Some cheaper dessicants are not pure 3A and can also absorb gases and cause inward movement of the glass, which in turn can also make the glass unit fail. Once the dessicant is in place this continues to absorb moisture throughout the window's lifespan.